Creativity Under Construction
Creativity Coaching and Mentoring Service
If you have a glimmer of an idea about what you want to create but aren't sure where to start...
If you have an urge to paint, sculpt, weave, construct, compose, play music, write, sing, dance, shoot film... and you'd like some help finding your direction...
If you're working on a creative project and feeling blocked or uncertain about where to go next...
If you're tired of retail therapy and have a longing for a more creatively fulfilling life...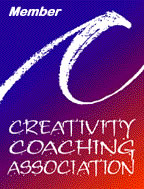 A professional working relationship with a Creativity Coach and Mentor can help you turn your ideas into finished projects and your goals into accomplishments while at the same time helping you to develop and fulfill your own creative potential.
Our lives get so busy that it can be tough to pursue the unique talents and abilities which are the creative gifts we are all born with but it's never "too late". When we understand our gifts and use them, our lives are more purposeful, satisfying and happy and we have more to offer others. Together we can help create a plan to develop your creative abilities and bring to life the projects you dream of creating.
My 30 years experience as a teacher, writer and working artist, allows me to provide support, advice and assistance to nurture your talents, skills, abilities and ideas through the creative process with all its inherent doubts, fears and uncertainites. In this partnership, I work with you to inspire you to tap more deeply into the well of your own ideas and develop them so that you move forward in your creative life, taking the steps to turn your dreams into reality.
Initial Consultation is free. Mentoring can take place in person, by phone, by skype, or by e-mail.
Contact me for information at deastham@sympatico.ca.